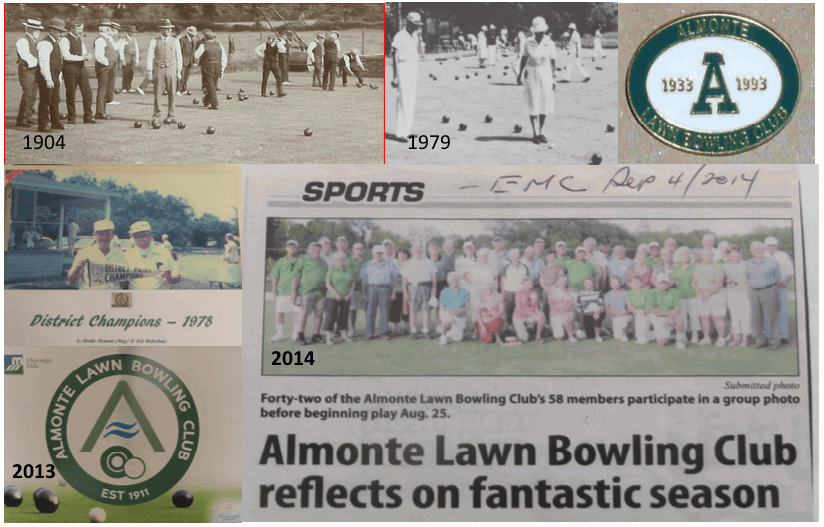 Club History
The Almonte Lawn Bowling Club was established in 1911 when a group of citizens began using the green beside the old town hall. In 1933, the Club was moved to its current location (formerly a cricket clubhouse) at 157 Robert Street, Almonte, Ontario, and has been welcoming prospective members ever since.
Histoire du Club
L'Almonte Lawn Bowling Club a été créé en 1911 lorsqu'un groupe de citoyens a commencé à utiliser la pelouse à côté de l'ancien hôtel de ville. En 1933, le Club a été transféré à son emplacement actuel (anciennement un pavillon de cricket) au 157, rue Robert, à Almonte, en Ontario, et accueille depuis des membres potentiels.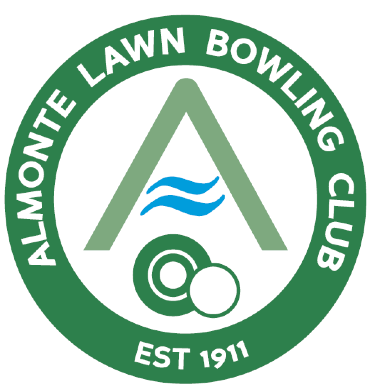 The ALBC Logo
The idea to design a logo for the ALBC was raised by Cliff Bennett during the Board of Directors meeting on May 29, 2013. To make things fun, it was decided that a contest would be held to design the best crest that would conclude with a free 1-year membership for the winning designer. The winning submission came from Guy Chaput and Ken Brown, and displayed a round crest with the club name and year of establishment, a white centre on a green background, a letter "A" with the crossbar made of two blue waves (symbolic of the nearby Mississippi River), a bowl, and a jack. The logo was adopted during the 2013 Annual General Meeting.
Le logo de l'ALBC
L'idée de concevoir un logo pour l'ALBC a été soulevée par Cliff Bennett lors de la réunion du conseil d'administration du 29 mai 2013. Pour rendre les choses amusantes, on a décidé qu'un concours serait organisé pour concevoir le meilleur emblème qui se conclurait avec un abonnement gratuit d'un an pour le créateur gagnant. La soumission gagnante est venue de Guy Chaput et Ken Brown, et inclut un emblème rond avec le nom du club et l'année de la fondation du Club, un centre blanc sur fond vert, une lettre "A" avec la barre transversale faite de deux vagues bleues (symbolique du fleuve Mississippi), une boule et un cochonnet. Le logo a été adopté lors de l'Assemblée générale annuelle de 2013.
Click here to go back to the homepage / Retourner à la page d'accueil